See us at the UK Oracle User Group on 28th Feb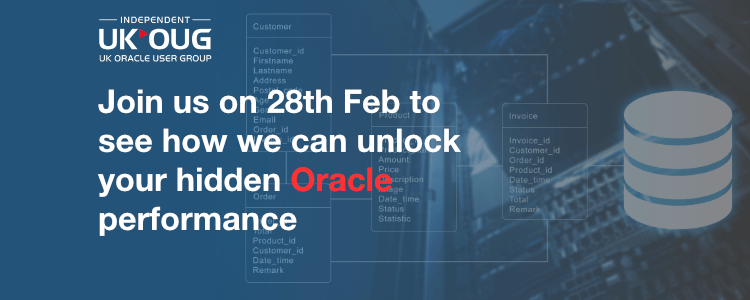 Next Thursday, 28th February, AP will be sponsoring, speaking and exhibiting at the UK Oracle User Group Midlands Tech Summit in Northampton.
The event is for Oracle professionals to learn about the latest in Oracle Technology and features a star line up of speaker including; Jonathan Lewis, Mark Rittman, Chris Saxon and Jason Arneil.
On the day there will be 6 streams covering Database, Analytics & Big Data, Development, APEX, Platform Technologies, Platforms & DevOps, RAC Cloud, Infrastructure & Availability. 
At the event, AP directors Russell Luke and Martin Pinner will be demonstrating a new way to dramatically improve Oracle database performance without changing any application code. This new solution known as DBTao has been designed to make it very easy to unlock hidden capacity and achieve better performance for your Oracle databases.
DBTao analyses all of the SQL statements that have run and works out which database tables would benefit the most from creating new indexes, deleting inefficient ones that may have degraded over time, modifying existing indexes and even creating materialised views.
To find out more you can contact us or register now to join us in Northampton next Thursday.
When: 
Thursday, February 28, 2019, 9:00 AM
Where:
Park Inn by Radisson Northampton
Silver St
Northampton NN1 2TA
United Kingdom