Reflections on last night's web performance dinner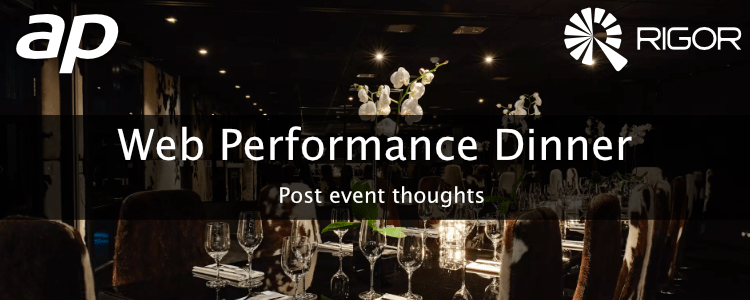 Last night we held our second Rigor Web Performance Dinner, where we were joined by some great people from well known brand names, all at various stages of their web performance journey. The relaxed environment, great food and company helped ignite some interesting discussions on the importance of web performance, adoption and the sharing of experiences.
We kicked off with Chapman Lever , Director of Alliances and Market Development at Rigor talking about the five stages of the application performance monitoring (APM) maturity curve, and how customers interpret and change their APM adoption throughout those stages. Both teams at Rigor and Application Performance see customers at different milestones along this journey, and we have the experience to help get the results needed.
Over dessert, Joshua Haddon , Group Data Intelligence, SEO & Digital Analytics Group CRM & Analytics at Specsavers drove home the importance of web performance and explained the impact on conversion rates and SEO and gave explanations on how faster web performance can impact both conversion rates and your organic Google listing.
Joshua talked about how you need to be faster than your competitors, and also highlighted the impact of the giant websites such as Amazon and Facebook, and how your customers expect the same level of web performance and experience that they deliver, on your website. That may seem a daunting task, but with the right strategy, monitoring and awareness, you can achieve it.
The completed mini-presentations will be available to download soon. In the meantime though, please take a look at our website, or contact us here with any questions that you may have and we can get in touch, or if you are keen to see how Rigor can help you, please register for a free trial.