2018 - Looking back - and some new ideas for 2019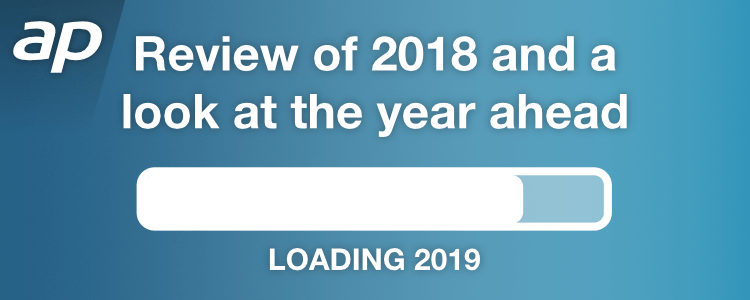 Before jumping into 2019, we would like to thank you for all we accomplished together during the last year! We are proud to be working with you, helping you get the most out of existing products and introducing you to some cool new ones.
A big thank-you for continuing to put your trust in us when it comes to your application performance and code quality challenges - topics that are never truly done and offer the opportunity for continual innovation and bright ideas.
Some interesting web performance stats from 2018
While users expect page load times  under 3 seconds , the current average for UK users is  8.5 seconds  so many companies could do much better!
The main contributing factors to page load time are page weight and number of resources. In 2018 the average page weight has grown to  1.88 MB  way more than the ideal target of < 500 KB and the average number of resources in  116  which really should be < 50
When it comes to big retail events like the recent Black Friday there are always winners and losers and if you are wondering if performance really matters then see our most recent blog.
We are also seeing significant growth in interest for ways to link application performance and code quality monitoring tools with companies increasing use of CICD tools such as Jenkins - the good news is that our OverOps (Java application code) and Rigor (web front end optimisation) solutions already have Jenkins plug-ins to enable software quality and release gates. We are also working to enhance DBTao for Oracle, so that every new database release can also link with your CICD process and only progress to production if it is up to scratch.
New website and focus areas
Back in the summer we launched our new website to share how we can help you with new challenges:
Monitoring and Acceleration - via continuous monitoring, you can pro-actively learn your solution's performance and measure your success.
Code Quality - poor code quality will create bad user experiences and are often the root of performance issues.
Continuous Delivery - awareness and the adoption of DevOps has continued in 2018, with many commentators predicting continued rapid growth in Continuous Integration and Continuous Delivery as the adoption of cloud and container related technologies increase.
Take a look at the new website and see how AP can help you in all these areas.
Expanding our expertise
Our team of consultants worked on many interesting projects ranging from applications running on Windows 2003 and SQL 2000 (yes it is still out there) to cloud apps running in Azure and AWS using Docker containers and Kubernetes. See our new expertise page for more of the technologies areas we get involved in.
News from our some key partners
AppDynamics

Our AppDynamics business continues to grow, with our professional services team helping more customers than ever before. AppDynamics themselves continue to lead the APM market, providing ever more functionality and being named in the Gartner Magic Quadrant for the 6th consecutive year.

OverOps

OverOps continues to provide unsurpassed visibility into your Java based applications, tracking every error and exception whether in production, development or test. During 2018, OverOps added support for Jenkins allowing you to use them together to act as a code quality gate. OverOps also works with your other tools JIRA, Splunk, ELK, AppDynamics and more, to become a seamless part of how to create and deliver software.
New Partners we added during 2018
DBTao

DBTao is designed to help accelerate Oracle performance whatever your application or workload - allowing you to make the most of your existing infrastructure, and speeding up the key areas of functionality you need to keep your users happy. Why not give it a try, its a unique way to dramatically improve database performance without changing any application code. We are also working on support for Postgres, SQL Server and MySQL over the next few months, so there will be lots to tell you about in 2019.

Rigor

Rigor helps customers deliver fast and reliable digital experiences for their end users. It  continuously monitors your  websites and APIs  for availability, performance and errors, plus continually assesses them against 280 best practices providing clear step-by-step instructions to optimise your site. As well as helping protect how your users experience your website, Rigor is equally valuable as part of your CI/CD workflow, stopping performance defects reaching production.

Harness

Harness was founded by AppDynamics founder Jyoti Bansal and provides a unique way to automate your entire Continuous Delivery process, using machine learning to protect you when deployments fail. Continuous Delivery has never been so simple.
Look out for our London event due to be announced in January focusing on web performance monitoring and optimisation.
Have a great Christmas and happy New Year. We look forward to working with you again in 2019.