Announcing our Partnership with Rigor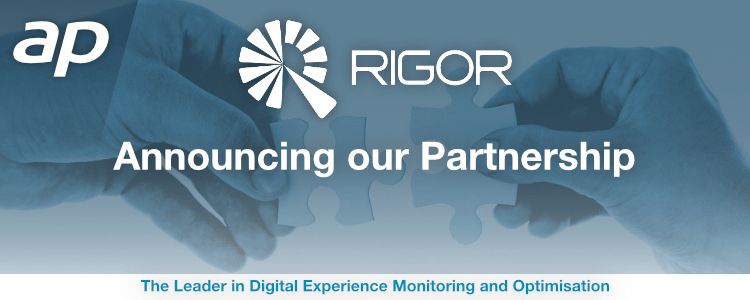 Rigor and Application Performance announce UK web performance monitoring and optimisation partnership. 
Rigor and Application Performance today announced their partnership to promote and support the Rigor performance monitoring and web optimisation platform.  This partnership will enable Rigor to open their platform further into the UK market and provide local, UK based support and professional services.
Via Rigor, this partnership will enable Application Performance to bring to market an innovative managed service to help customers measure, optimise and monetise web performance optimisation efforts.  Application Performance will use its domain expertise and market leadership in the UK to drive adoption of Rigor's performance monitoring and optimisation platform as part of Application Performance's managed performance service.
"The Rigor partnership aligns with Application Performance's previous 20 years of web and application performance experience, and will help our clients to meet today's demanding performance and availability goals for their solutions and platforms," said Russell Luke, Managing Director of Application Performance.  "When paired with our rich portfolio and experience of acceleration solutions and services, Rigor's platform will allow clients to innovate faster while maintaining a first-class consumer experience."
"Application Performance shares Rigor's vision of automating the process for building and delivering high-performance digital experiences around the world", said Rigor CEO Craig Hyde. "Rigor's ongoing technological innovation combined with Application Performance's deep industry knowledge and complementary WebTuna technology, means we can rapidly address the critical business needs for growing and vibrant markets throughout the UK."
About Rigor
Rigor is the new frontier of digital experience management. Rigor's SaaS platform enables businesses to develop and deploy fast and reliable customer experiences online with agility, efficiency, and confidence. Rigor is trusted by hundreds of businesses to proactively manage their digital performance and strategically improve their customers' digital experiences. Rigor customers include Abercrombie & Fitch, The Weather Company, Ticketmaster, Michael Kors, Teradata, and CBS. Rigor is privately held and headquartered in Atlanta, Georgia.
About Application Performance 
The team at Application Performance have been helping customers for more than 20 years to improve their applications through monitoring and accelerating the performance of their critical applications, improving their code quality and delivering those applications faster through Continuous Delivery.
We work with multiple vendors, to offer the best possible solution no matter what your technology stack. On top of that we provide expert services such as implementation, training, integrations, performance reviews and more.
If you'd like to know more about how Rigor, and AP, can help you improve your website performance, then please contact us here and we can get in touch, or if you are keen to try it out for yourself, then please register for a free trial.