Rigor - more than just web performance monitoring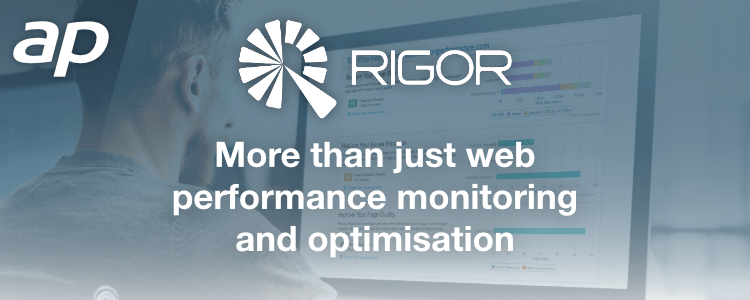 You may have seen our recent announcement, but if not, we're pleased to reveal that we are now officially the sole UK representative of Rigor; we look forward to helping many more businesses enjoy the benefits of this impressive web site performance monitoring and optimisation solution. 
Rigor is not "just another synthetic monitoring  tool" and over the next few weeks, we are going to post about the importance of web performance, along with some how-to's covering the functionality of Rigor, and the many unique benefits it can offer you. 
Before we get stuck into the detail, here's a bit of background to introduce you to Rigor, and explain how it fits within the world wide web of today.
Who or what is Rigor?
Founded in 2010, Rigor is an easy to use web performance monitoring and optimisation solution, enabling a pro-active approach towards performance measurements throughout the SDLC, while providing easy to read advice on how to improve your website's performance experience.
Across the globe, Rigor has landed some well-known e-commerce, media, enterprise and financial brands. Clients include News International, Disney, Specsavers, The New York Times, GlaxoSmithKline… to name a few.

Why Rigor?
The team here at AP have been knee-deep in web performance for over 20-years, during which time we have either created performance monitoring solutions ourselves, or represented products and provided professional services for other leading third-party solutions.
We pride ourselves on having our finger on the pulse, and when we see or hear about a new solution or service, we review it ourselves so that we can see how it fits in the marketplace, and understand its suitability for both our existing and prospective new customers.
With Rigor, we followed this same due diligence and we instantly connected with its ease of use and the valuable, straightforward information  and optimisation advice it can continually create for any selected website, either public or internal! If you'd like to read more about it, please take a look on our website here.  What really stands out for us is that Rigor identifies any issues, and also tells you what you can do to fix them, which is pretty unique.
The Rigor Platform
There are two key components of Rigor, the first of which is the monitoring side which lets you visualise performance trends and alert when things go bad. The second is  optimisation which provides expert analysis with solutions to fix the problems quickly.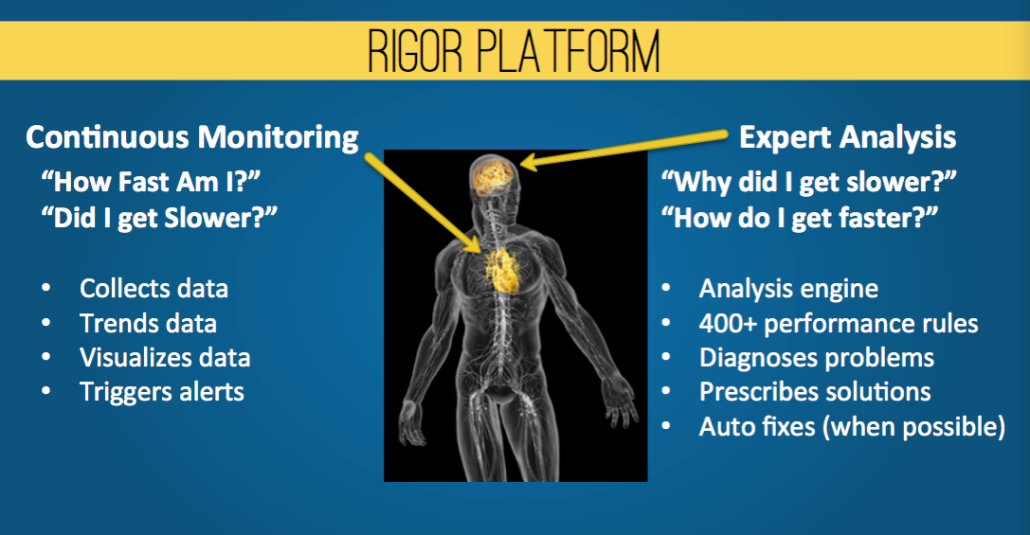 Each section has multiple areas, such as uptime, real browser and API checks, going on to analysis reports and more, but we'll go into more detail about these in later blog posts. As you will see its extremely comprehensive and offers unique value.
The author's thoughts on Rigor
I was part of the internal review process of Rigor within Application Performance and had the opportunity to lead on the investigation and explanation of the tool within the business. But why do I like Rigor, and what are some of the key points I like about the platform?
To help explain my thoughts, I would like to tell you about a previous side role I used to complete some 10-plus years ago. At the time, another developer and I had some spare capacity, and so the business I was working for at the time started taking outsourced web performance analysis work for a well-known performance and monitoring company.
Our job was to analyse a requested website, its key web pages and to generate a web performance report on how they measured up against the advised performance guidelines of the time, and what issues we identified. We would use various web browsers and tools such as YSlow and WebPageTest and pull the various results together into a final report.
The report style was aimed towards the web developer; they were direct, with various technical snippets and terms dropped in, with little explanation as to what our advice meant. A good example would be "implement caching to help reduce repeat requests."
But why? What does this mean? How should it be implemented? How will this help? These are questions our reports failed to cover, and I now question how many recipients of our reports fully understood and completed our recommendations.
Hindsight is a great thing, and with experience now on my side, I know most requests for a performance test come from non-technical departments. Therefore, the reports should be written in a clear manner, using, where possible, plain English with straightforward explanations of our advice and expected results.
After all, if the report recipient doesn't understand the results and advice, how can they engage their development team on what needs to happen?
The reports should have highlighted the key stats, provided plain-English explanations while providing non-technical people with the information they required to engage their development team. The detailed, technical part could have been covered in a technical appendix.
I don't recall follow up calls, or post change tests to ensure the advice had indeed been implemented correctly and made a positive performance impact. Who was measuring and reporting the success of these changes?
Experience has taught me that most businesses would not have understood those reports, and as such there were probably times where the report was received and filed away for another day when they had time to interpret and understand the results and advice.
Where Rigor excels
With Rigor, everything you need to measure your website's performance is under one roof – there's no mix of this or that tool – and it's all presented back to the end user in a productive, easy to read manner with straightforward advice on how to resolve any issues. So its just like having a web site optimisation guru permanently on-tap!
Rigor even prioritises and rates the advised improvements with a 'difficulty' rating. Unlike my earlier manual reports and testing, Rigor goes one step further, and subsequent analysis will show and prove whether an implemented change helped improve the website's performance.
What would have taken me 3-5 days to complete, can now be done within a few mouse clicks and five minutes. And the UI and hand-held advice provided by Rigor helps all teams from management, to development, operations and design, understand the performance findings.
It's a powerful, sensible use of technology today.
Do keep an eye out for our follow up posts, as we are going to cover off the importance of web performance and the impact that a poorly-performing website can have for your website and your customers.
If this has intrigued you, and you'd like to find out more, then please take a look at our website, or contact us here and we can get in touch, or if you are keen to get going, please register for a free trial.