Interview with AppDynamics: APM, Sector trends & more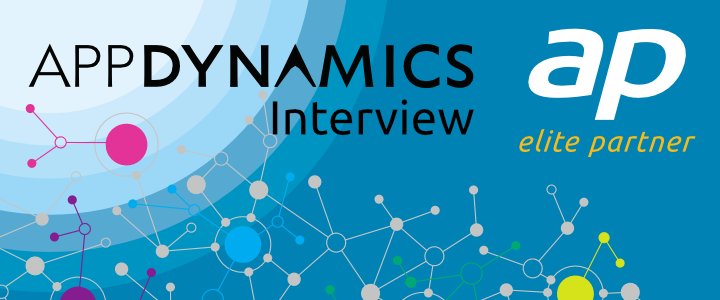 Last week AppDynamics interviewed AP co-founder Mick McGuinness ahead of their upcoming AppD Summit Europe Event to talk about APM, sector trends and more. AP are specialist APM consultancy and long-term AppDynamics partner and a Platinum sponsor at AppD Summit Europe.
Can you tell me a little about Application Performance — history, focus, customer base?
The company was founded in 2004 with the goal of helping customers monitor and accelerate the performance of their business critical applications. We partnered with AppDynamics early in 2009 just one year after Jyoti and Bhaskar started the company and we have seen them go through phenomenal growth. Between myself and our other two co-founders, Russell Luke and Martin Pinner, who started together at Precise Software, we have nearly two decades' experience in the application performance sector. Our client base encompasses small, medium, and large size companies across multiple industries such as travel, energy, telco, online gaming, and consumer goods.
We are an AppDynamics Elite Partner in the UK and offer consulting services around not only the product, but also helping customers optimise and scale their applications. We also work with several AppDynamics complementary solutions that you can see demoed at the AppD Summit event in May.
Can you explain the thinking behind your "Monitor", "Understand", and "Accelerate" methodology?
We recommend all customers start with monitoring. To paraphrase the well-known business maxim, "You can't manage what you don't monitor end-to-end." Unless you have AppDynamics, the alternative is guesswork, but once you have data you can understand business transactions and their performance implications. This is far better than focusing on problems that aren't actually problems. Once we understand where the bottlenecks are we can then start to accelerate things. This might be a consulting engagement such as a "performance review" where one of our experts analyses and makes recommendations. Or it could be applying a software-based acceleration technology such as web, network, or database performance acceleration.
How has application performance monitoring evolved over the last three years?
We've seen two major trends emerge. The first has been around big data technologies — this trend has been present in the industry for some time, but now it's possible to capture billions of events and metric data points with greater granularity. You can now drill down into any user's session, and even see individual requests from individual users. You can also quickly search across those huge datasets to pick out things of interest and address issues faster.
The second is around capturing business data. Whilst originally efforts were channelled towards technical metrics, what increasingly matters are business impact dashboards for business owners, showing the impact on revenue, number of orders, value of orders, business processes, and end-to-end processes, such as when an order is placed and shipped to the end customer.
Why is a holistic approach to application performance management required?
Monitoring was traditionally silo-based, meaning that the system engineers, network engineers, and application specialists each had their own tools for monitoring. Generally what we see is that this leads to conflicts between IT teams because everyone talks in their own language about their set of metrics which prove that they're not to blame. When there's an incident and you have a war room scenario, where varying views between teams are expressed, the blame game is played, or "mean time to innocence" as it can be called. Organisations need an end-to-end view across the infrastructure that aids collaboration, and sees everyone sharing the same data.
You've heard the saying, "Every company is a software company." How are you seeing the increased importance that applications have to a business translate to the kind of projects that you undertake?
In our experience we have seen this trend accelerating across all areas of business. One example is with travel companies. For a long time the business has been moving more and more from physical stores to the web. So for them it's the software that they build that allows them to differentiate from the competition. Other industries we work in are going the same way, too. Whether it's buying insurance, cinema tickets, broadband, gas, or electricity, those businesses' primary method of sales and customer engagement is through the software applications they build. And when they don't work, that causes frustrated end users and lost sales. In some cases, customers might never return if they have a bad experience. Business owners now have an interest in application performance, with custom dashboards showing business impact. Digital teams meanwhile also have an interest, as they build front end mobile apps. There is a need to understand not just analytics, but the user experience as well.
Can you share a joint AP/AppDynamics customer success story?
CGI is a long-term customer, and a large outsourcer with 70,000 employees around the globe. The 2012 merger with Logica resulted in CGI becoming the fifth largest IT service provider in world. We've partnered with CGI on some of their largest and most prestigious accounts, such as BT, where CGI built an application responsible for provisioning broadband that involved Java, .Net, SQL Server, Oracle, and MySQL. Traditionally, CGI used BMC Patrol to monitor their infrastructure, but were experiencing serious delays getting to the root cause of application issues. Using AppDynamics, we mapped the end-to-end environment for BT, from the upstream systems which interfaced with it through to the downstream systems which it made calls into. This gave deep visibility into the application, which assisted root cause analysis and greatly accelerated the remediation time. CGI and BT use AppDynamics all the way through the software development life cycle, in development testing as well as later in production. This success led to CGI working with us on other large accounts.
Flash forward 18 months — what do you think will be the main APM hot topics?
Artificial intelligence (AI) and machine learning will become more and more important from an application and infrastructure management point of view. As the data collected by monitoring tools gets more complex and varied over time, it becomes impossible for human or even a team of humans to keep an eye on everything, so we will use machine power to look for anomalies. The next step is then using AI to speed up the troubleshooting process. For complex problems, the troubleshooting process can involve analysing many metrics to figure out which metrics spiked as a symptom of something else and which one was the root cause. I believe machine learning will provide root cause analysis for complex problems and solving these automatically.
Let's not forget IoT. As new smart devices are launched for the home, the connected car becomes more popular, and wearables become an everyday sight, the estimate of 50 billion connected devices by 2020 seems very realistic. I think for businesses looking to create IoT devices, it's essential that they build in monitoring from the start so that they have the right analytics to give them a comprehensive understanding of the customer's interaction with that device and how it performs.
You can meet Mick and the Application Performance team at AppD Summit Europe on May 3rd. Register for your place here.