Ymonitor - Synthetic monitoring for ANY application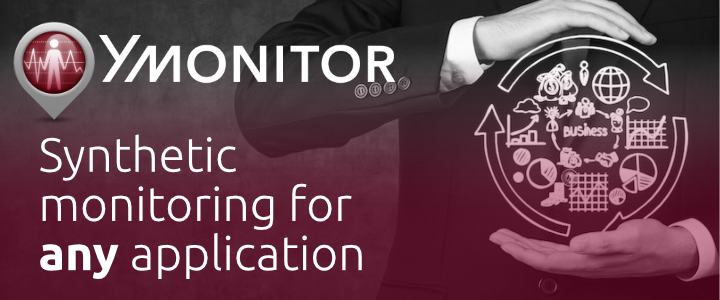 AppDynamics does a great job of Synthetic Monitoring for public facing web sites with the ability to proactively ensure application performance and availability anytime from around the world.
What AppDynamics does not do is Synthetic Monitoring for internal applications such as ERP, CRM, Finance, Intranets. And, as it is limited to browser based applications and sites, it can't drive synthetic transactions against Windows applications or applications delivered through Citrix - this is where Ymonitor comes in.
Ymonitor is Synthetic Monitoring for any application!
It has the flexibility to test any type of application no matter what the technology. This could be a Windows application such as Outlook or SAP. Or it could be an application delivered via Citrix XenApp. Maybe you have a legacy application using some outdated technology, get in touch and see how we can help. YMonitor can even test IVR systems used in call centres.
Fully Managed Service
What's more, Ymonitor is implemented as a fully managed service based on your particular requirements - making it easy to implement, maintain, and update, as your challenges and needs evolve. This means no scripting up front and no ongoing maintenance of the scripts as your application changes.
Integrating data sources
Ymonitor also allows you to combine key information from multiple monitoring solutions (including AppDynamics) and other sources of data, as well as its own synthetic transaction tests. If something has an API or the data can be accessed programatically then it can be pulled into YMonitor.
In summary YMonitor provides the follow benefits:
Synthetic Transactions - for any application
Dashboards - combining information from multiple monitoring tools
Alerting - on availability and performance
Flexible Reporting - including automated KPI and SLA tracking
Process Monitoring - track the successful completion of critical batch or other processes
Ymonitor provides a unique 360 degree view of your business combining the strength of AppDynamics with other sources of information.
We would love to discuss how Ymonitor can help you, so why not book a conversation at the AppDynamics Summit in London on the 3rd May or contact us to suggest another time.
If you'd like a to see a short 3 minute video about how Ymonitor works then check it out below before getting in touch.