Devoxx 2019 - put it in your diary now!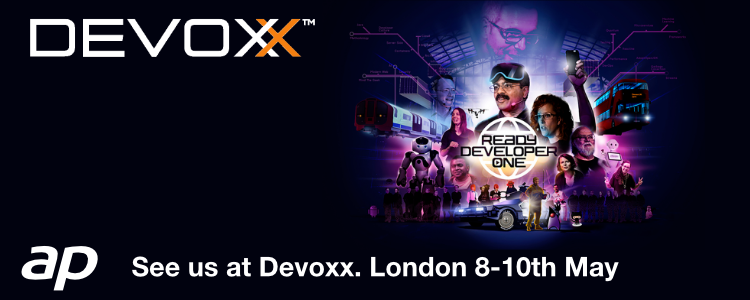 Devoxx UK returns to London from the 8-10th May, 2019. This year, as last, AP will be sponsoring, exhibiting and speaking at the event. Put the date in your diary now!
Although the detailed timetable is still being finalised, you can expect :
Day 1 is full of deep-dive hands-on labs
Day 2 starts with the keynotes, and follow up with conference sessions coving server-side Java, Big Data, AI, Cloud, Containers, Architecture, Security and more.
Day 3 continues with more conference sessions on a range of different technologies, practices and methodologies from some great speakers.
As is usual, the sponsors' exhibition runs on the Thursday & Friday, and we hope you can call in at our stand.
And don't forget to check out our "Byte-Size Session". We will be presenting a rapid-fire session looking at how you can implement software quality and performance gates in your CI/CD workflow, and with a bit of luck, we should be able to demonstrate this working live.
Sign up for the event and come see see us in the exhibition. Or If you can't make the event but are interested to know more about improving the quality of your releases, please contact us here.
Event Details
Devoxx UK 2019
8th – 10th May
Business Design Centre, 52 Upper Street, London. N1 0QH. United Kingdom