Next generation database monitoring tool - DBmarlin reaches beta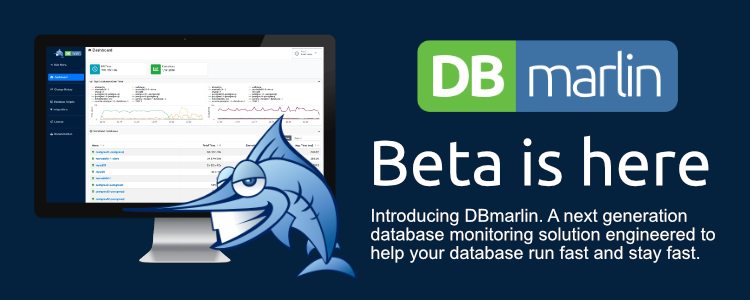 Prepare for the next generation of database monitoring. Application Performance Ltd (AP) are thrilled to announce that DBmarlin launched in closed Beta test on 21st August. Anyone wanting to get early access can register now at register.dbmarlin.com
Having been involved in database monitoring and optimisation since 1998 and bringing DBTuna to market in 2009, we felt it was the right time to develop the next generation of database monitoring.
DBmarlin has been designed from the ground up to be easy to use for anyone needing to optimise a database, not only expert DBAs and database performance specialists, as is often the case with other tools. It can identify inefficient SQL and quickly pinpoint the root cause.
In short DBmarlin is engineered to help your database run fast, and stay fast!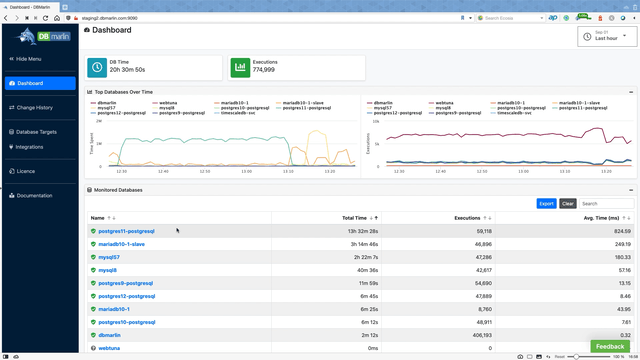 DBmarlin features include
Modern responsive UI (can be viewed on any device including mobile)
Support for modern database platforms such as Cloud (E.g. Amazon RDS)
Granularity down to 1 second intervals
Single pane of glass for many database technologies
Captures all important SQL and their wait-events
Auto detects changes (db properties, schema changes & explain plans)
Auto recommendations (coming soon*)
Full integration with Instana APM to see application context
Supported databases
The beta includes support for the following databases:
MySQL 5.6, 5.7, 8.0 (Including Percona, MariaDB, and RDS Aurora)
PostgreSQL 9, 10, 11, 12 (Including TimeScaleDB and RDS Aurora)
Oracle (coming soon*)
SQL Server (coming soon*)
Beta benefits
The good news for those who get involved in the Beta and provide feedback is that when we launch you will receive 1 FREE licence to monitor a database of your choice.
If you want to get involved in the beta program you can register now at register.dbmarlin.com.