Why do we partner with and recommend Instana?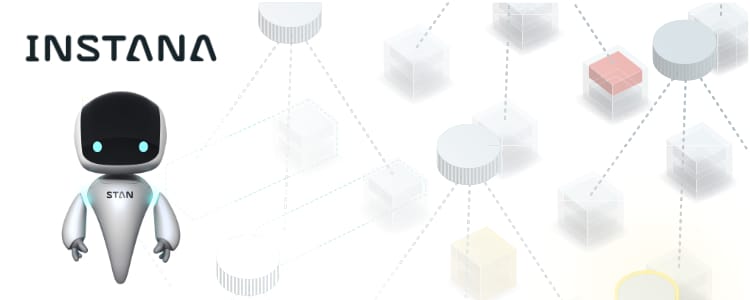 We've partnered with Instana since 2016, when they first came to market with a refreshingly modern and easy-to-deploy infrastructure monitoring tool. This quickly evolved into a fully-fledged Application Performance Management (APM) solution designed to cope with the most modern, dynamic, microservice based, cloud-native environments that need to cope with hundreds of changes a day.
We also love the fact that Instana works well with more traditional enterprise applications deployed on-premises or in private clouds. This ability to support any mix of traditional and modern application architectures is important. Instana provides you with a consistent way to manage all your applications and is perfectly placed to help before, during and after any migrations.
_"It's hard to imagine us being able to have successfully incorporated microservices into our architecture without the support of AP and the Instana application monitoring they have recommended during our journey." _
Murray Williams, Senior Software Architect, iNexus
Top-10 technical reasons why we recommend Instana
Keeps 100% of traces - You always have the information you need, unlike other tools that only capture sample traces and therefore lack full visibility - often at the time it matters most.

Minimal configuration - Instana is built to use as much automation and self-discovery as possible, reducing the time taken to deploy, configure and become useful. These features also ensure that Instana continually understands changes within your environment, adapting its monitoring and reducing the traditional headache of maintenance.

Dynamic graph - Instana knows the complex interrelationships between all physical and logical entities that make up your application. You can map the dependencies of applications, services and calls all the way through to JVMs, processes, containers, hosts and clusters. This makes it easy to navigate through your technology stack to find, and fix, performance bottlenecks.

Cloud native - Instana was built for microservices and cloud-native applications, such as those running in containers orchestrated by Kubernetes, from day one. The way that Instana has embraced this new way of doing IT means its users have a real advantage over more traditional APM solutions.

100+ sensors - Instana already supports an ecosystem of hundreds of technologies with key performance metrics and built-in knowledge about each of them. This guarantees that as a customer, you'll be up and running quickly as you don't need to spend time configuring thresholds for each and every metric.

One agent - No need for multiple agents on a single server. Instana has a single agent that once deployed, pulls in and configures the correct monitoring based on the technologies you're using. It's the closest thing to "fire and forget" we've seen in 20 years of working in the APM space!

Real time - You can see what's happening right now and the impact of any changes or deployments instantly. There's no need to wait minutes to see the impact of a change! When troubleshooting a problem or validating a new deployment, waiting several minutes for monitoring data can seem like a lifetime.

One second granularity - This is a big deal. Tools that aggregate metric data to one minute or more miss the detail of short-lived spikes in performance. With Instana, there's no risk of missing the data you need to fix a problem.

Long data retention - Instana keeps detailed data for longer so it's still possible to troubleshoot problems days after the event. Unlike other tools, where the detailed traces or granular metric data are lost after one day, Instana keeps full data for seven days before rolling up. You don't need to worry about being able to troubleshoot a problem on a Monday that occurred on a Friday.

Real User Monitoring - Instana captures 100% of browser requests as well as 100% of the server-side traces meaning you can always follow any requests end-to-end. Even better news is that Instana includes its RUM and Mobile monitoring at no additional cost when you purchase its APM agents, so you really will have the entire user journey.
Instana offers compelling commercials as well
Putting purely technical benefits aside, it's important to say that Instana is equally innovative commercially and brings ever-increasing value over time to anyone needing an APM solution. Uniquely, Instana only charges a single price "per host per year" and you gain access to 100% of the products' capabilities without the need to buy any additional modules, as your requirements evolve.
Instana also innovates at a tremendous pace, releasing new features normally every two weeks, that expand what can be covered without charging you more. All the innovations and benefits of its acquisitions are all provided at no extra cost - so you will automatically get more for your money over time.
Is Instana right for your business?
Why not talk to us about your challenges and together we can explore if Instana is right for your business, or to simply arrange an evaluation please click here.