Nexthink Experience'17 event highlights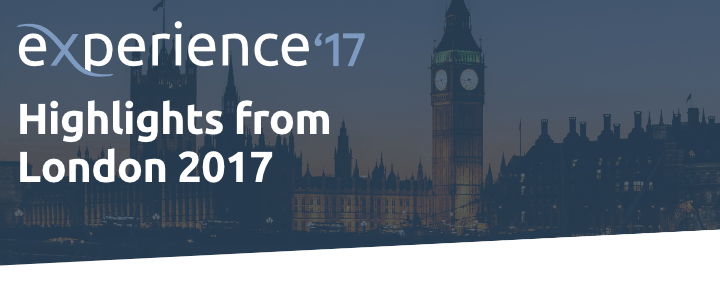 Yesterday AP sponsored and attended Nexthink's annual customer event. This year rebranded as Experience'17 compared to Analytics'16 last year with the company choosing to focus on why it does what it does (user experience) rather than how it does it (end user IT analytics). The event at Mercedes-Benz World was well attended and is the first of a series of 5 Experience'17 events around the globe.
The keynote kicked off with CEO Pedro Bados who took to the stage to share the impressive company stats. Nexthink now have 800+ customers, 4+ million devices monitored, 93% renewal rate, NPS score of 81 and are well regarded by many analysts such as Gartner and Forrester.
Pedro then went on to reveal the big new feature they are about to launch, Nexthink Act. This is an add-on module which allows actions to be taken on the end user's device. This is a real game changer for Nexthink. They can now see in realtime what is happening on every users device (Analytics), they have a mechanism for IT to communicate and get feedback directly from end users (Engage) and now they can take remediation actions on a users device immediately (Act).
Nexthink Analytics (End user IT analytics and device health)
Nexthink Engage (User feedback via popup that can be branded and personalised)
Nexthink Act (Take actions on the end users device)
Samuel Ganter, VP Products then came on stage to show some very compelling live demos of how Analytics, Engage and Act modules could work together to reduce the number of tickets and 'shift-left' the tickets which need to be escalated from L1 to L2 to L3 support teams.
Live demos
Outlook crashing on startup.  This was detected by Nexthink Analytics. Nexthink Engage then sent a popup to the user saying that the IT were aware of the problem and were working to fix it. An L1 support engineer could then bring up the L1 Checklist for Outlook crashing problems and take the relevant actions on the users device using Nexthink Act, without having to schedule a remote screen share. In this case the actions were 1) Kill any outlook.exe processes 2) Reset the OST file and 3) Apply GPO updates. Having resolved the problem Nexthink Engage then sends another popup message to the user informing them that their Outlook problem has been resolved.

A full C drive  which is a common problem for end users and wastes a lot of time both for the end user and IT. In this case Nexthink Engage then send a popup to the user asking if they would like to a) Empty the recycle bin or b) do a deep clean including their Downloads folder. Nexthink Act then runs the appropriate Disk cleanup and Nexthink Engage notifies the user that the disk problem has been resolved.

Skype for Business calls dropping  can be fustrating for end users. In this case the L1 checklist showed that the users had experienced 5 out of 7 calls dropping within the last 24 hours and that the Skype call drops where due to high latency on the Wifi network. This could then be escalated to the network team to resolve the wifi issue.

Isolating an infected machine  needs to be done quickly to prevent malware spreading. In the demo we saw a user clicking an email attachment (cutepuppies.exe) and ignoring multiple warnings that it might be unsafe. In this case Nexthink Analytics detected in realtime that a malicious binary was running and Nexthink Act was able to isolate the users machine from the network to prevent any further spread. Nexthink Engage sent a popup to the user informing them that the computer has been isolated and again once the problem had been resolved.
Nexthink Act has many use cases including self-healing, fixing broken apps, disk clean up, gathering additional diagnostic data, ensuring compliance (proxy settings, SCCM running etc) and lots more. The scripts are PowerShell-based so can be easily added to. Nexthink have a library of common scripts and also a Managed Service for customers who don't have scripting resources available.
As well as Nexthink Act the product has moved on in multiple other areas and Sebastian Baehni, VP Engineering showed some of the work that had been done around Scores. Nexthink automatically generates a Device Health Score based on all the metrics it knows about a Device. It also creates a Satisfaction Score based on end user feedback. These scores can be tracked over time. There has also been improvements to the ServiceNow integration for Incident Management and a new CMBD Connector which lets Nexthink keep the ServiceNow CMBD up to date automatically. Other new integrations included Splunk.
The second part of the event had interesting presentations from research analysts, Forrester and Nexthink customers, ComputerCenter, Glencore and MarkerStudy.
All in all, a great day and lots of new and interesting things coming from Nexthink. Get in touch if you would like to see any of the new features demoed or would like to try Nexthink in your own environemnt.