Looking back at AppDynamics Global Tour London 2019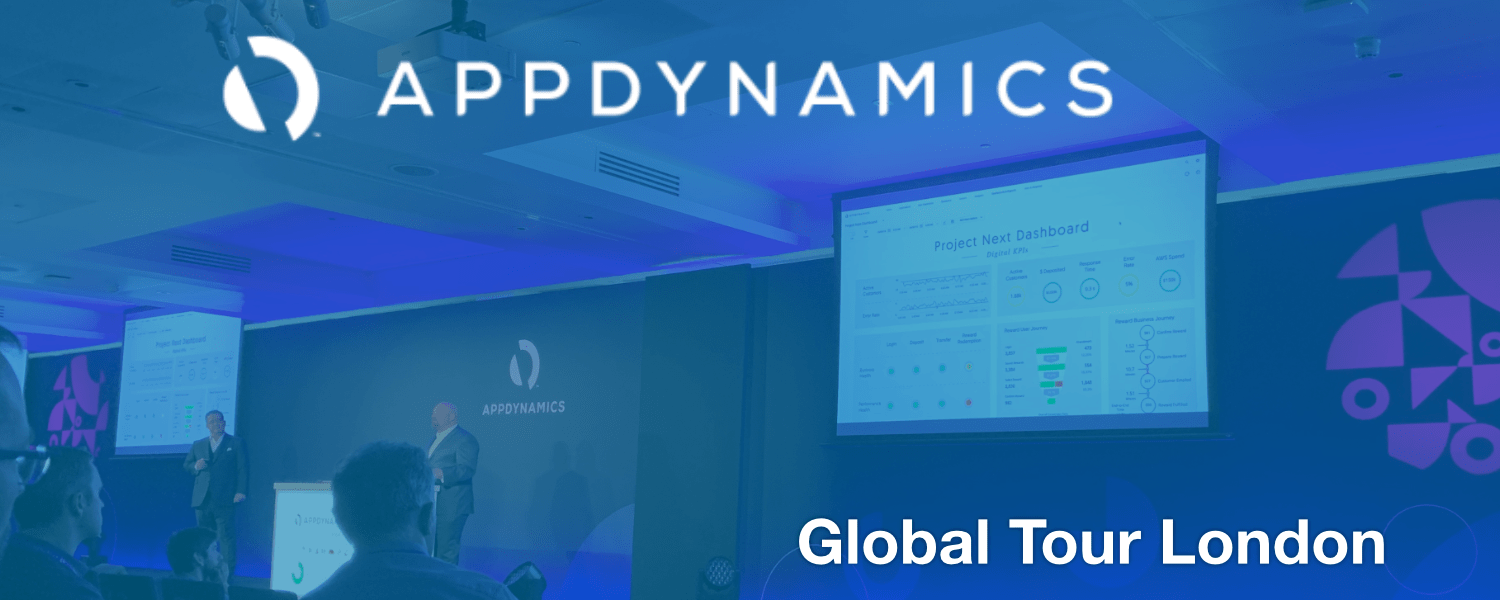 Last week the AppDynamics Global Tour arrived in London and it was great to meet many of our customers there. The event was aimed at technologists driving transformation in their industries, businesses and careers. As AppDynamics call them, 'Agents of Transformation'. Why not take the Agents of Transformation Assessment to find out what type of technologist you are.
During the Keynote session, John Rakowski, Senior Director of Product Marketing took a look back at the last 10 years from 2009 - 2019 which just happens to be the time that AppDynamics has existed as a business. He looked at the changes in retail banking and the automotive industries and how the evolution of DevOps, Cloud, and IoT were enabling long-established enterprises to transform their traditional businesses to software-driven, customer-first organisations.
Over the last 10 years applications from the user perspective have become much simpler and more natural but the backend complexity continues to escalate.
Think about AppDynamics customer HSBC who had multiple speakers at the event. They are a global brand with 38M customers, 229K employees of which 40k are IT professionals, and 90K servers to manage. They still depend on their Mainframes and on-premises services which are combined with their multi-cloud environment running hundreds of cloud services, thousands of containers as well as server-less functions like AWS Lambda.
In order to balance user experience and the application complexity they chose AppDynamics and are currently using it across over 600 applications. It has helped them deliver applications faster than ever before (already 300 new features delivered by June 2019 compared to 108 per year 10 years ago). And their banking Apps have top marks on both the AppStore and PlayStore.
AppDynamics then related that back to their '3 Pillars' of the AppDynamics Application Intelligence Platform:
Visibility - Understanding the health of your business requires total visibility into complex application environments that cross multiple domains including infrastructure, network, security and more.
Insight - The right insights from your application environment can fuel intelligent IT decision-making to drive rapid resolution and predict future performance.
Action - Take action on the insights you derive and leverage intelligence to help remediate problems, prevent issues and optimise your operating environment.
Other customer speakers throughout the day included BP, Nationwide, Collinson and Ensono.
You've probably seen this quote before, (and it was used again) but we think it is still so very true.
"Before AppDynamics, it was like driving a car at 100 MPH with your eyes closed.", 
Hector Aguilar, CTO Okta.
Introducing the Cognition Engine
Ben Blicoe, Sales Engineer, demonstrated the newest feature of AppDynamics, the Cognition Engine, which is the Machine Learning engine that came as a result of Cisco's acquisition of Perspica in 2017. This first release of Cognition Engine allows AI to perform automated anomaly detection as well as automated root cause analysis taking AppDynamics into the rapidly growing AIOps space.
What's Next for AppDynamics? AIOps and The Central Nervous System
In the afternoon was a chance for customers to find out about what is coming up on the roadmap for AppDynamics. JF Huard, CTO Data Science took to the stage to explain in more detail about the Cognition Engine and what other use cases Machine Learning could be applied to. For example the automatic configuration of Business Transactions without any manual rules required and the automatic configuration of Data Collectors that can be used for troubleshooting or Business iQ.
Then Tom Rabaud, Vice President of Product Management, ran through the short term roadmap for AppDynamics and some of the features we could see within the next few months. The removal of Adobe Flash from the last few screens within the product got quite a large cheer :)
Another welcome improvement coming very soon is the move towards a 'one line' installer which will package together APM, Server, Network and Analytics agents that can be deployed together rather than the individual installs required today.
And one which I personally am really looking forward to, is the improved Dashboard builder which has easier widget alignment, easier editing with fewer clicks, and template variables which allow the same dashboard to be easily reused for multiple applications, for example.
Summary
Overall it was a very worthwhile day out of the office and a good chance to meet customers and prospects and network with technologists working with AppDynamics to drive transformation in their organisations. If you would like to know more about how AP can add help, whether you are already using AppDynamics or looking to start on your APM journey, then please contact us here.