New slant on you can't manage what you don't measure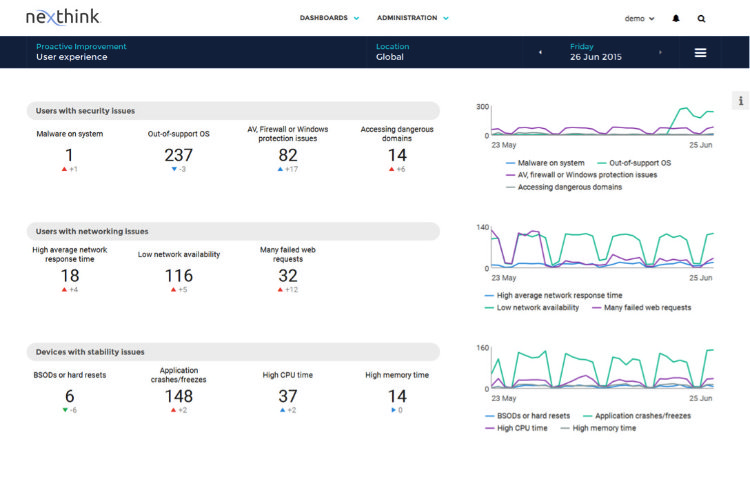 Harness your environment using end-user data & analytics for superior insight
Today's IT environments are so complex and changing too fast for IT executives to rely on simple point-in-time snapshots of data for decision-making. Decision-makers need a baseline of history, with meaningful analytics, for insight and understanding, to make timely IT business decisions. End-users, shadow IT, security teams, DevOps, help desk support, service desk workers, IT operations, contracted service providers, and public cloud/SaaS providers constantly introduce new software, updates  configuration and policy changes making it impossible for you to construct a complete and accurate understanding of your IT environment. Trying to work with anything but  "continuous" end-user real-time data and analytics significantly impacts your ability to monitor service consumption and quality.
Data analytics is your friend. End-user analytics provides IT with the insight to understand the past, optimise the present, and make strategic business decisions for the future. Understanding what your end-users are doing and how the IT services you are providing affect them has never been more important. Fortunately the benefits of data analytics are not limited to business intelligence (BI) experts or data scientists.
Data analytics does not have to be difficult. As a pioneer in end-user ITOA (IT Operations Analytics) and a Gartner Cool Vendor, Nexthink offers a baseline service that will deliver turnkey IT analytics so you and those in your organisation can immediately start making better informed IT and IT security decisions.