Are you ready for Black Friday and Cyber Monday 2019?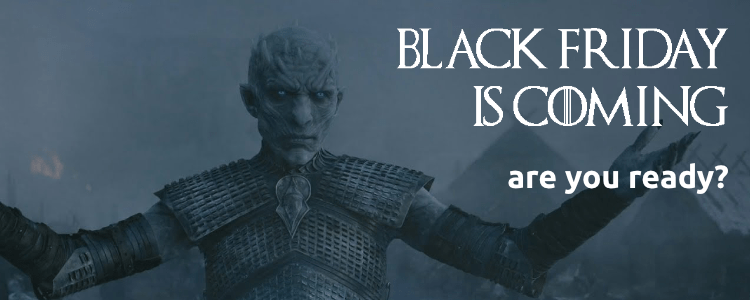 This post may seem very early, but the upcoming Amazon Prime Day this week (15-16th July 2019) is a good reminder that as an e-commerce platform you really do need to get ready for the Black Friday / Cyber Monday sales period. I know, it seems wrong even mentioning an event due in November, in July; it's a bit like saying the word Christmas now (sorry), but fail to prepare, then prepare to fail. Before you completely disengage, abandon this blog post, and delay worrying about Black Friday until nearer the time, we would encourage you to at least think about the following key points:
Volume – prepare for increased demand.
Are you confident that your website can handle the potential increased load of Black Friday and Cyber Monday? How did it, and you, cope with previous years? Did your hosting platform stand-up to the demand, how much spare capacity did you have, or did it fall over?
Monitor and measure your hosting platform, databases, third-party integrations and more. APM tools such as AppDynamics are a good fit here, as they'll tell you how pushed your infrastructure is, and identify what backend business transactions are poor performers.
Complete a load test on your website and discover what your current maximum capacity is. Load tests will also help you understand how your website behaves as load and the pressure of demand ramp up – all signs to remember, set alerts against and track.
What growth have you seen during previous Black Friday periods, can you see any correlation or interesting trends?
If you've previously failed, did you review your mistakes and take those lessons onboard? If not, learn from them before November!
Speed – it matters!
The speed of your website is of utmost priority – you can (and might be) spending a vast sum on advertising and enticing customers to your website, but if your website is slow, you may as well pour your advertising budget down the drain.
Review and optimise your website performance. We're official partners for Rigor, and I'm a huge fan of theirs too, as they can give you insights into your website performance, but, unlike other tools, they give you hand-held advice on what issues you have and how to resolve them.
From a backend performance view, an APM tool can help you identify infrastructure and other backend performance issues.
For more info, check out our "does web performance matter" blog post.
Contingency – plan for the unexpected.
What if the worst happens, and your website goes down, or performance drops off a cliff, resulting in high basket abandonment rates? What would you do? Do you want a nasty 500 status error page appearing, or could you prepare a nice message for your lost customers?
You might even be able to identify which users you've lost, in which case you may be able to send them a personal apology message with a 10% off "we're sorry, we messed up" offer. These tactics could help you recover a small amount of lost revenue, and help start rebuilding the lost trust with your customers.
Bring your "A" game – watch, monitor and be ready to strike!
If you're a true professional, you'll have a pro-active approach to monitoring and website performance, with defined SLAs, alerting policies and crisis procedures. If the customer or someone outside of your team reports an issue about your website before you do, how do you think that will reflect upon you and the various teams who've put their heart and soul into the website?
And be smart – you don't need a whole team sat around, twiddling their thumbs 24/7 untill an issue occurs. Use the technology available today to identify potential issues before they impact your customers. Moreover, have escalation processes that hook into your pre-defined contingency plans.
Do you need any help or questions?
We're here to help, and would love to chat with you abut your plans. We can help you understand what your current website performance is today, and what steps you can take to prepare for Black Friday 2019 and onwards! We're a friendly, pressure-free team, passionate about performance, so please drop the AP team a message, and we'll call you back.