DBmarlin adds support for Microsoft SQL Server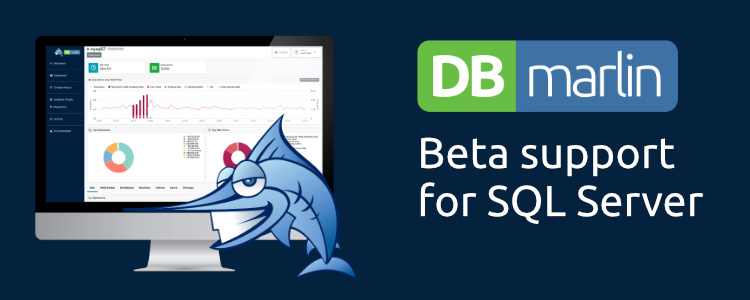 We are pleased to announce that DBmarlin now supports Microsoft SQL Server in addition to Oracle, MySQL and PostgreSQL.
The good news is that anyone with SQL Server 2014, 2016, 2017 or 2019 databases, whether they are on-premises or hosted in the cloud, can now try the beta version of DBmarlin to monitor the performance of the database and the SQL statements running within it.
See our docs for a full list of supported platforms.
SQL Server is the third most popular database according to db-engines ranking and is widely used across businesses large and small.
DBmarlin is a next generation database performance monitoring solution which has been designed from the ground up to be easy to use for anyone needing to optimise a database, not just expert DBAs and database performance specialists, as is often the case with other tools. It can identify inefficient SQL and quickly pinpoint the root cause.
DBmarlin features include
Modern responsive UI (can be viewed on any device including mobile)
Support for modern database platforms such as Cloud (E.g. Azure SQL)
Granularity down to 1 second intervals
Single pane of glass for many database technologies
Captures all important SQL and their wait-events
Auto detects changes (db properties, schema changes & explain plans)
Auto recommendations (coming soon*)
Full integration with Instana APM to see application context
Supported databases
The beta now includes support for the following databases:
MySQL 5.6, 5.7, 8.0 (Including Percona, MariaDB, and RDS Aurora)
PostgreSQL 9, 10, 11, 12 (Including TimeScaleDB and RDS Aurora)
Oracle (11g, 12c, 18c and 19c including Amazon RDS)
SQL Server (2014, 2016, 2017 or 2019 including Amazon RDS and Azure SQL)
Beta benefits
The good news for those who get involved in the beta and provide feedback is that when we launch you will receive 1 FREE licence to monitor a database of your choice.
If you want to get involved in the beta program you can register now at register.dbmarlin.com.