Why is Mobile Performance so Big?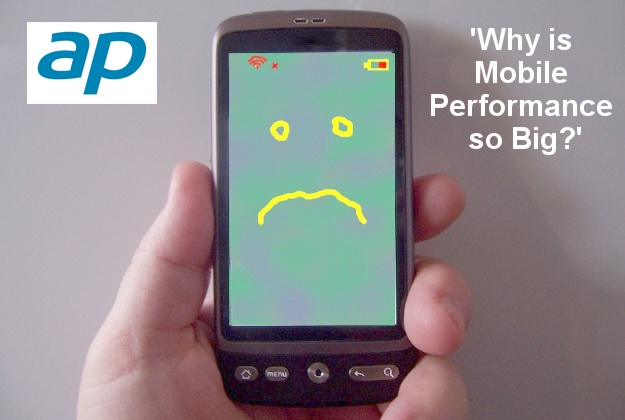 There's no doubt that mobile is gathering a huge amount of focus.
We cannot ignore the increasing trend towards mobile which is particularly high in the younger age groups (85% of internet usage in 25-34 year olds and 91% of 18-24 year olds in a recent IDG Global Mobile Survey). Mobile will become ever more of a priority thanks to Google's announcement that from 21st of this month, it will no longer display sites without a mobile version to people on mobile devices.
Of course, those with an interest in Search Engine Optimisation will also know that Google grades sites based on their levels of performance.
So, if you've developed a mobile version of your site, or even a mobile app, where does this leave you?
Well, you're off the starting block but where next? You're in a whole new playing field with a whole new set of rules.
Mobile applications are viewed on a wide range of devices – far, far more varied than would ever occur in the desktop/laptop universe. As with desktop, operating systems vary but mobile apps also need to contend with a smorgasbord of mobile networks and WiFi connections. In fact, there's no guarantee that the person who is walking through a city full of tower blocks – that constantly interfere with the signal on his smartphone – will be able to complete that precious (to the e-tailer) purchase of a new pair of shoes. In the same way, if you're trying to encourage your employees to use an enterprise app, you need each and every experience to be positive and straightforward to maintain the momentum around takeup within your organisation.
This is challenging given the high number of functions that a mobile app has to undertake and APIs that need to work alongside it. There are thousands of variables that can cause crashes, latency and poor performance.
40% of apps are not used after their first month, a sad statistic when you consider the amount of money and time invested in their launch. Poor performance leads to poor app store ratings and very soon, to failure. In the same way, people who work in enterprises with poor performing apps inevitably start to find ways to work around them and once this starts, effectively you've moved into reverse.
At AP, we provide software that delivers performance reporting in the forensic detail that you need, right down to the truculent line of code that's causing you grief. You can prioritise issues based on those affected and even tackle problems that are having the biggest financial impact on your organisation.
With smart solutions from AP, we can help you build the reputation of your app either with consumers on the app stores or with colleagues within your organisation (bringing you great wealth and recognition of course). So right now, if you want the best form of monitoring for this varied and challenging world of mobile devices, drop us a line here.