Calling all Java Developers - Devoxx 2018 is here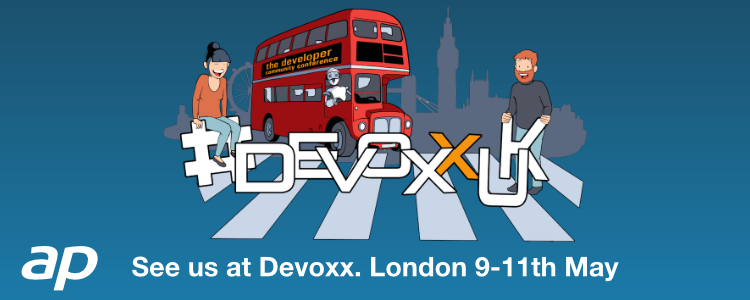 Devoxx UK returns to London 9th – 11th May, 2018 , and will welcome brilliant speakers and attendees for the very best developer content and awesome experiences. This year AP will be sponsoring, exhibiting and speaking at the event.  There are expected to be over 1200 attendees as well as 114 speakers from companies such as Oracle, Google, BBC, Tesco and Expedia and or course AP!
Every year the Devoxx Family welcomes over 11,000 developers to events in Belgium, France, UK, Poland, Morocco & the USA. Here is what you can expect in London:
Day 1  is full of hands-on labs across many areas.
Day 2  starts with the keynote sessions followed by sessions coving server-side Java, Big Data, AI, Cloud, Containers, Architecture, Security and more.
Day 3  continues with more conference sessions on a range of different technologies, practices and methodologies from some great speakers.
Don't forget to check out our " Quickie Session", Bug Wars: Episode IV – A New Hope". This Star Wars themed presentation by our very own Ben Cripps and Martin Pinner talks about the never-ending war against bugs and the difficulties in identifying, reproducing and fixing them. Surely there must be a better way? Definitely worth 15 minutes of your time to find out about "A New Hope" :) Thursday at 12:55 in the Exec Centre.
Sign up for the event and come see see us on Stand B4 (in the corner of the Exhibition hall). Or If you can't make the event but are interesting to know more about fixing Java bugs then contact us.
Event Details
Devoxx UK 2018
9th – 11th May
Business Design Centre, 52 Upper Street, London. N1 0QH. United Kingdom