DBMarlin is now available for general release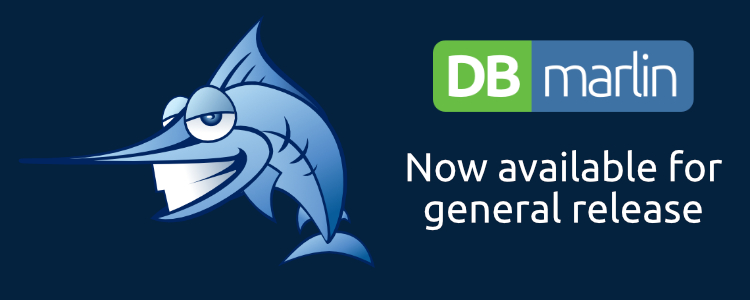 We're delighted to have received so much interest in DBmarlin, our next-generation database monitoring tool. We launched in beta in August 2020 and are proud to announce that as of today DBmarlin is shipping to customers. Everyone who downloads DBmarlin gets 1 FREE Starter license to monitor any database of their choice.
If you would like to download the latest version of DBmarlin, please click here.
Why use DBmarlin?
We developed DBmarlin to reimagine what database performance and change monitoring solutions can do and make it easier than ever before to ensure databases run fast and stay fast - ensuring they consume minimal resources and cost you less to run.
At launch DBmarlin supports "the big 4" databases - MySQL, Postgres, Oracle and SQL Server - including the many cloud-based alternatives. Additional relational and NoSQL databases will be added in the coming months.
So what better way to have a single pane of glass for them all, across any mix of self-hosted (on-premises) and cloud environments!
DBmarlin provides a modern, easy to use, consistent view of database performance and changes. It removes the need to use different tools for each of your databases, with each offering different metrics and screen layouts.
DBMarlin working together with Instana
We are also proud to announce that DBmarlin and Instana are integrated and able to provide you with an end-to-end understanding of your user experience, application and database performance combined.
For a limited time, all Instana customers can download a FREE premium DBmarlin licence to monitor any database of their choice. Just register before the 31 December 2020 to claim this free licence (even if you don't use it right away!).
We want your feedback!
If you would like us to support additional relational or NoSQL databases, please let us know. Your feedback is always very important to us, so get your votes in early!
If you would like to download the latest version of DBmarlin, click here.
To keep up to date on all the exciting DBmarlin developments, why not follow the DBmarlin LinkedIn community here or simply visit www.dbmarlin.com.
Supported databases
DBmarlin now includes support for the following databases:
MySQL 5.6, 5.7, 8.0 (Including Percona, MariaDB, and RDS Aurora)
PostgreSQL 9, 10, 11, 12 (Including TimeScaleDB and RDS Aurora)
Oracle (11g, 12c, 18c and 19c including Amazon RDS)
SQL Server (2014, 2016, 2017 or 2019 including Amazon RDS and Azure SQL)