I spent a month working from home on 4G and it wasn't good enough.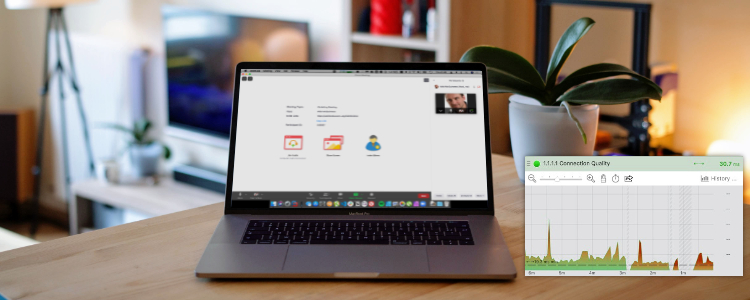 For many of you, working from home has recently become the new normal. As someone who has mostly worked from home over the past 15 years, lockdown has meant very little change to my routine — at least that was the case until I recently moved house.
Moving is already one of life's more stressful events, but moving during a global pandemic, well that added an extra level of complication. We completed the move in mid-April and, at the time, I naively thought I'd be back to work within a week. My ISP originally told me that it would take seven days to connect to broadband, which was manageable. I had booked a few days off and could survive for two working days on a 4G hotspot.
Yes, I was naive.
In reality, it took over a month for my broadband to be connected. This caused endless frustration and had a substantial impact on my ability to work from home.
For over 20 years working as a performance specialist, I've spoken to customers about the importance of performance and the user frustration and lost productivity caused by slow applications.
After being on the receiving end of poor performance, I can testify to the stress it causes and the impact on employee productivity.
Some of the problems I've encountered
While waiting for broadband, here are just some of the problems I encountered regularly:
Web pages that didn't load, would timeout or load very slowly.
Emails or Slack messages that didn't send.
Zoom meetings interrupted due to unstable internet connection.
Web meetings that dropped out at a crucial time.
VOIP calls that have audio delays, distort your voice or drop out completely.
Running up large data costs and running out of mobile data mid-meeting.
These problems spiralled when my ISP was unable to connect me when they said they would. After calling customer services to find out why, I was told my account had a "data integrity issue" that prevented the automatic activation from taking place.
This needed to be rectified by a specialist team, most of whom were furloughed, meaning that they had a backlog of issues to deal with. After hours on the phone over an eight day period, I was told that the issue had been resolved, but it would be a further two weeks before they could activate the connection.
4g mini hub to the rescue? (maybe not)
My ISP provides a service that is designed exactly for this kind delay in activation during a home move. This is essentially a 4g mini hub which has a SIM card and uses the 4g mobile network to connect you to the internet.
I had to ask several times about the 4g mini hub. Each time I was told a different story. First that they had run out completely as the stock from China had been exhausted due to Coronavirus. Then that they could only give them to vulnerable people. Eventually, they sent me one, only for me to find that it didn't work.
The error message given read "No SIM", which was accompanied by a red signal indicator. I then spent three hours on the phone to customer services, getting passed between departments that repeated the same inane diagnostic steps, such as the clichéd "turn it off and on again", or "press the reset button for five seconds".
The conclusion was that the SIM card was broken. They were unable to order a replacement.
Because I couldn't afford to waste any more time on the phone, I was back to using my phone as a mobile hotspot and racking up huge data costs.
Mounting data costs
The cost of data can quickly mount up. Like many people, I have a number of devices in the home, including multiple laptops, desktops and server computers, smartphones, tablets and smart devices. If any one of these decides to perform a backup or auto-update its OS or applications, this quickly eats through data.
In one case, I purchased 20GB of data for £36 only to find a couple of hours later it had all been used up.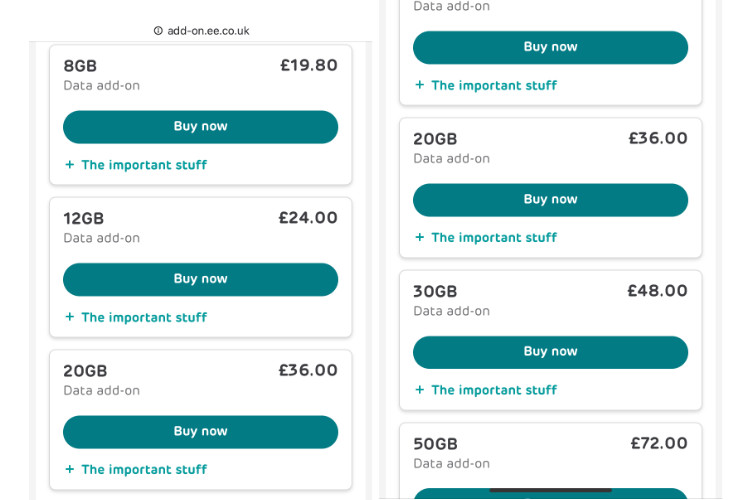 The problems of working over 4g
Aside from the data costs, reliability of connection is the biggest issue when working over 4G. My new house isn't far from a 4G mast and, under normal circumstances, the connection would be fine.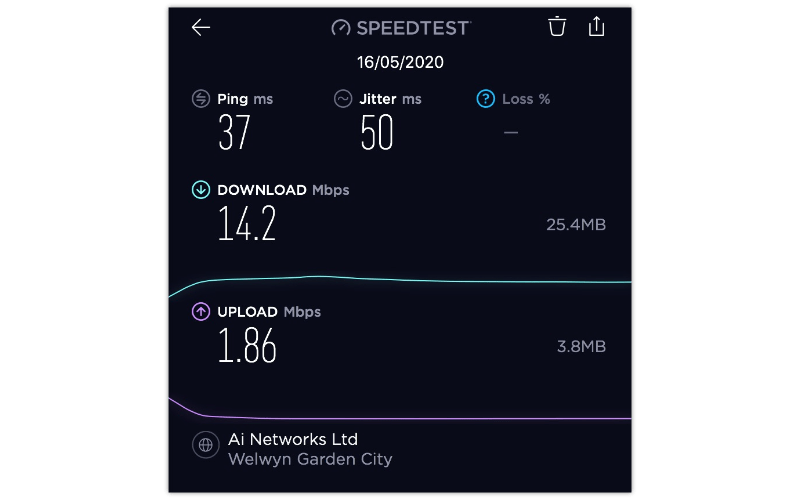 As you can see, the download speed is a respectable 14Mbps and upload speed around 2Mbps. Both are perfectly adequate for web browsing and email.
The ping time of 37ms also seems reasonable and the packet loss is 0%. However, the jitter of 50ms is a problem, particularly for Voice-over-IP (VOIP) calls and web meetings. Given that my job relies on meetings using services such as Slack, Zoom, MS Teams, WebEx, GoToMeeting, Skype for Business, this was definitely unsustainable.
Connection quality varies over time
Latency and jitter are the two biggest killers for quality of VOIP calls and web meetings. Cisco defines jitter as "a variation in the delay of received packets", meaning that jitter is actually a differentiation within the latency (or delay) between each data packet.
Cisco recommends the following limits for VOIP calls:
Max One-Way Delay: 150ms
Max Round Trip Delay: 300ms
Max Jitter: 30ms
For an indepth look at latency and jitter see: https://getvoip.com/blog/2018/12/20/acceptable-jitter-latency/
The other thing that a speed test doesn't tell you is the variability over time. Using a trial of a MacOS tool called PeakHour4, I could see there was huge variability in latency over time and that the connection dropped completely for periods lasting several minutes.

I couldn't get an accurate view of the downtime over a day, but I estimate that it was about 5% downtime, or about 24 minutes over an eight hour working day.
Of course, if any of those 24 minutes coincided with a web meeting or VOIP call, there's additional cost in lost time, efficiency and reputation with customers.
Summary
For every organisation with employees who are working from home during the global pandemic, a decent internet connection from home is more important than ever. For me, 4G just wasn't good enough. It's possible that 5G would be an improvement, but that isn't an option for everyone (myself included).
For companies to guarantee that employees are getting the user experience necessary to do their jobs efficiently, monitoring is paramount. It's often said you can't manage or improve what you don't measure, so understanding how business applications are performing from both home and work requires measurement of the key performance indicators, such as response time, latency, VOIP call quality or error rates.
For a single tool which covers all of this, we recommend UXM (User eXperience Monitoring), which sits passively on employees' laptops, whether they're in the office or at home. It reports on these key metrics as they access business applications such as MS Teams, SharePoint, Skype for Business and others.
I eventually had my broadband activated on the 18th May and it has transformed my ability to work efficiently and communicate with colleagues and customers. After almost a month of struggling to work on a 4G connection, I can fully empathise with users who have to deal with these issues on a regular basis!
If you would like more information on UXM, get in touch with us.